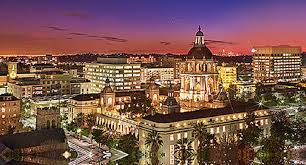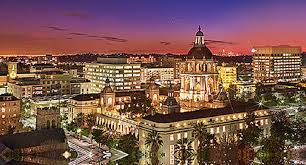 Pasadena, California is a beautiful city surrounded by the San Gabriel mountains, which is northwest of downtown Los Angeles. It became a wealthy area in the 1930s, so there are many great mansions, which still exist to this day, once owned by famous people such as William Wrigley (of Wrigley Gum) and David Gamble (of Proctor & Gamble). Pasadena has done very well to maintain its heritage of grand estates and historic buildings, yet also has all the modern conveniences of a major metropolitan area.
Top Neighborhoods in Pasadena, CA
Old Town: Old town is highly desirable because this is where to find all the wonderful shops, restaurants, and nightlife. With everything in walking distance there is no need to use a car for much of daily life. This is a superbly charming, but pricey area.
San Rafael: The San Rafael area of Pasadena is consistently rated as highly desirable. The public Rafael Elementary school is a high quality public school. plus there are many private schools in this area.
Oak Knoll: Oak Knoll an upscale neighborhood full of big houses, but few apartments. It gets its name from the rolling hills covered with mature oak trees. They are quite beautiful.
Cultural Attractions in Pasadena, CA
Tournament of Roses: The internationally famous Tournament of Roses each year has the Rose Parade with spectacular floats and marching bands. Hundreds of thousands watch the parade in person as they line the parade route in Pasadena. Millions watch the event on live television.
Rose Bowl: The Rose Bowl is part of the Tournament of Roses. It is the first and oldest after-season college football game in America, which started in 1902. It is an annual ritual for everyone in Pasadena to have a tailgate party, watch the Rose Bowl football game, and see the Rose Parade.
Museums: Armory Center for the Arts has art exhibitions and hosts the annual Old Pasadena Film Festival. The Norton Simon Museum has fabulous permanent collections and exhibitions, as well as film events and the popular summer concert series. There is also the Pacific Asia Museum and the Pasadena Museum of California Art.
Pasadena Culturenet has all the up-to-date listings for everything in art, science, music, dance, and theater. There is always so much to do available in Pasadena boredom is impossible. This is why wealthy retirees love the city. Senior citizens are just as lively as young people as was first popularized in the Jan and Dean song called, "The Little Old Lady of Pasadena" about a hot-rod racing grandmother, with the lyrics "Go granny go!
Shopping in Pasadena, CA
The preservation of nostalgic charm of old town Pasadena is now enhanced with a modern updates. There are over two hundred unique boutiques and all the major retailers as well. Everything is all concentrated within a close enough distance to pleasantly walk from one end to the other. An open air mall, called Paseo Colorado, is just to the east of Old Pasadena. Paseo Colorado has plenty of good restaurants and a nice movie theater.
Dining in Pasadena, CA
There are over 500 restaurants to choose from in Pasadena of every kind imaginable. Just stroll through Old Pasadena and a tremendous waft of delicious food aromas fill the air. Style of good food from all over the world, plus a mix and match of many varieties in a single upscale restaurant, is on offer. This includes: Japanese, Brazilian, Chinese, Italian, French, German, Thai, Mexican, Korean, Mediterranean, Vietnamese, Middle Eastern, Noveau (new) American and good old standard American fare. For the adventurous, it is possible to go to a different restaurant each weekend and not go back to the same one for about ten years.
Weather in Pasadena, CA
The weather in Pasadena is like a dream come true. This is almost as good as it gets anywhere in sunny California. In the winter months, the temperature never goes below 40°F, and the average is around 55°F. During summer, it never goes above 90°F, and the average temperature is around 75°F. It rains only during the winter months of December through February, with the most rain, of about 5 inches, during the month of February. It never gets cold enough to freeze so plants grow well in Pasadena, which is why beautiful roses are so abundant. About 70% of the time the sky is clear and the sun is shining. Pasadena is a gardener's paradise.